TAYLOR ON TOUR – ON LOCATION CLASSES
DEAR FUTURE MAKEUP PROFESSIONAL,
WELCOME TO THE EXCITING AND PROFITABLE FIELD OF PROFESSIONAL MAKEUP! WHETHER YOU PLAN A CAREER WITH A COSMETICS FIRM OR IN BEAUTY, PRINT OR EDITORIAL AND FASHION MAKEUP, THE TRAINING YOU GET AT THE MAKEUP ACADEMY GIVES YOU THE NEEDED SKILLS – AND CONFIDENCE TO EXCEL.
AFTER COMPLETING EACH COURSE, YOU'LL RECEIVE A CERTIFICATE THAT YOU CAN DISPLAY WITH PRIDE. BEGINNER OR ADVANCED, THE SOONER YOU START, THE SOONER WE CAN MAKE YOUR DREAMS A REALITY!
PAMELA TAYLOR
MAKEUP ARTIST
NEW YORK
" The phrase 'signature look' ripples through the pages of fashion and style magazines with rarely a thought towards definition. Is it really possible for a makeup-up artist to be defined by the use of lip liner? Can a particularly heavy application of mascara pinpoint an artist's work as accurately as, say, Van Gogh's brush stroke or Tissot's use of artificial light? The difficulty is that the fashion industry is in a constant state of evolution with trends and colors changing with every season, so to establish a technique that adapts to this extremely fluid environment is no mean feat." – "Makeup Artist Magazine,"
Pamela Taylor's application, the Hydration Technique.
COURSES AVAILABLE –
INTENSIVE TWO-DAY PROGRAM 9-HOUR HANDS-ON CLASS
CLASSES ARE FROM 11.00 AM TO 4.30 PM
BEGINNER AND ADVANCED COURSES AVAILABLE.
CALL TO RESERVE YOUR CLASS TODAY!
All classes feature Pamela Taylor's Hydration technique, a unique water painting method of application.
All tools and products are provided for use in class.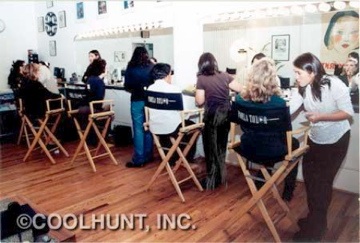 BEGINNER PROFESSIONAL MAKEUP 1
FUNDAMENTALS OF PROFESSIONAL MAKEUP ARTISTRY, AND THE HYDRATION TECHNIQUE.
• FACIAL ANATOMY FACE SHAPES AND BONE STRUCTURE
• HOW TO ANALYZE SKIN AS YOUR "CANVAS"
• HAND DEXTERITY AND PROPER TOOL SELECTION
• CORRECTIVE CONTOURING AND HIGHLIGHTING
• HOW TO TRANSFORM "NATURAL" DAY APPLICATIONS INTO GLAMOROUS EVENING LOOKS (HANDS-ON PRACTICE)
• HOW TO UNDERSTAND COLOUR WHEEL AND COLOUR HUES
• CAREER OPPORTUNITIES IN THE COSMETIC INDUSTRY
ADVANCED PROFESSIONAL MAKEUP 11
• BEAUTIFUL PHOTOGRAPHIC MAKEUP FOR PRINT AND BRIDAL SESSIONS
• AWARENESS OF PROPER LIGHTING FOR PHOTOGRAPHIC PRINT AND VIDEO MAKEUP
• MAKEUP FOR BLACK AND WHITE PHOTOGRAPHY
• HOW TO WORK HARMONIOUSLY WITH PHOTOGRAPHERS AND CLIENTS
• ARTIFICIAL LASH APPLICATIONS AND BROW SHAPING
• NATURAL BEAUTY AND ADVANCED PHOTO APPLICATIONS
• HIGHLIGHTING AND SHADING EFFECTS FOR VIDEO AND EDITORIAL PRINT
• VARIOUS TECHNIQUES FOR LIP AND EYE SHADING
• HOW TO BUILD A CLIENT BASE
All tools are provided for in class use a certification from Pamela Taylor will be honored upon course completion.
Contact us about hosting an "on location" class in your area.